RosUpack 2021 will take place on the scheduled dates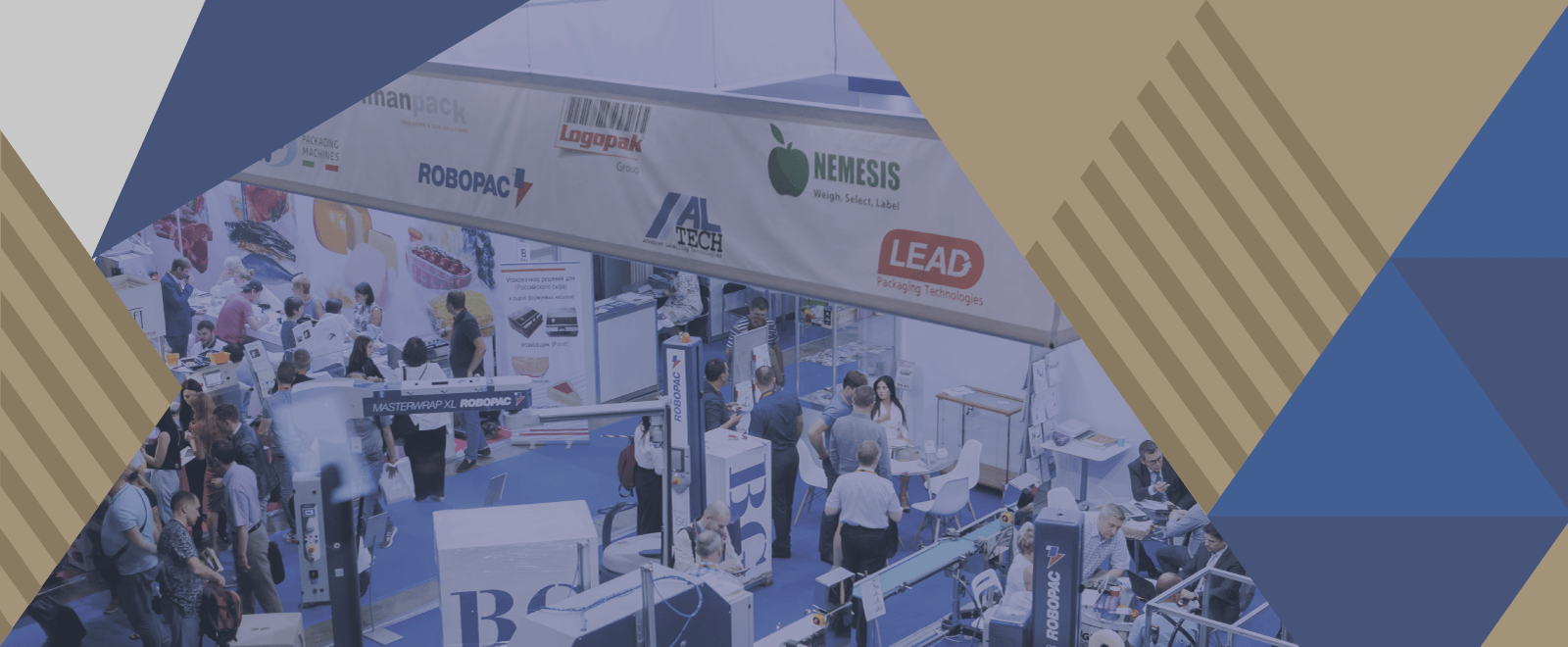 RosUpack and Printech to showcase new solutions for packaging and printing
The 25th Anniversary International Exhibition for the Packaging Industry, RosUpack will take place in Moscow at Crocus Expo on 15-18 June 2021. Simultaneously, the 6th International Exhibition of Equipment, Technologies and Supplies for Print and Advertising Production, Printech will be held at the same venue. The events are organized by the international group of companies Hyve.
The international exhibition RosUpack, being the largest event for the packaging industry in Russia and Eastern Europe, has been acting as a single industry platform for more than quarter of a century. At the exhibition, a wide range of packaging equipment and materials, finished packaging and labels, as well as equipment and raw materials for packaging from the world's largest manufacturers are displayed to representatives of Russian and foreign business. In 2021, the RosUpack exposition will be complemented with Printech's digital and large-format printing equipment, technologies and materials for printing and production of advertising structures, labels, and packaging.
In 2021, despite objective restrictions, RosUpack and Printech have retained their international status with more than 400 companies from 22 countries exhibiting. Among participating countries are Austria, Hungary, Belarus, Germany, Greece, India, Italy, Korea, Turkey, Latvia, Poland, Taiwan, Uzbekistan, Finland, France, Switzerland, and Japan. RosUpack exhibitors feature such larger companies as "Aigofro", "Arkhangelsk PPM", "Bizerba", "Bobst", "Bristol Group", "BoomChemInvest", "Georg Polymer", "Gotek", "Gofromashiny", "Gofrotekhnologii" "ECI Packaging", "Homag", "Hosokawa", "Komus packing", "Ilim", "Ishida", "Magic MP", "Markirowka Plus", "Mitsubishi Heavy Industries", "Omag", "Petromash Service", "Rusal", "Sibur", "Smurfit Kappa", "Solarco", "Solmark", "Sonoco", and others. More than 70 exhibitors will display their equipment at RosUpack for the first time, namely: "Clever Trading", "Hosokawa Alpine AG", "ZTI Metallpak", "All Prints Technologies", "Kama Karton", "Levrana", "LogoPolymer", "Typography VK", "Homag Russland", "Farmintek", "FlexoGarant", "EcoPack", "ELPI-Trade", and others.
Companies from almost all Russian regions will exhibit at RosUpack and Printech. The exhibitions have been in active cooperation with the institutions for supporting entrepreneurship of the Yaroslavl, Chelyabinsk, Astrakhan, Leningrad, and Moscow regions, as well as the city of Omsk. Annually, specialists from more than 70 regions of Russia visit RosUpack and Printech. Due to the almost full regional coverage, these exhibitions contribute to the development of the Russian economy and the establishment of business ties between manufacturers, suppliers, and customers within the country, which is especially important during the period of limited international contacts.
Among the exhibitors of Printech are: "Epson", "Heidelberg", "Canon", "Global Printing Systems", "Octoprint Service", "Hubergroup", "Konika Minolta", "RUSSKOM", "Nissa Distribution", "Smart- T", "Europapir", "K-engineering 2000", "RIG", "idea", and other companies. For the first time in 2021, joining Printech will be: "ADS-Service", "Axioma", "Caprint", "OST-F", "Printeka", "Uteco", "Zenon", and others.
The exhibitions will occupy an area of over 24,000 sq.m, and many exhibitors will demonstrate new equipment and materials at their stands. In particular, for the first time in Russia "NISSA Centrum" will display the "HP Indigo 6K" digital printing machine designed for the production of labels, flexible packaging and lightweight cardboard packaging. "NCL" will present a state-of-the-art solution for variable information imprinting, including mandatory "Fair Mark" codes. Visitors to RosUpack will meet the novelty of "NISSA Engineering", a warehouse robot — pallet transporter. "Novaroll", one of the largest manufacturers and distributors of transport and food packaging in Russia, will present new developments and services in the field of transport packaging of goods and automation of the packaging process. A number of exhibitors will showcase sustainable packaging solutions, from innovative eco-friendly stretch films by "Apollo Project" to biodegradable packaging and tableware by "EcoPack" and "Krambioplast".
"Rusal"'s stand will acquaint the visitors with cutting-edge environmentally friendly packaging made from aluminum and leaving a low carbon footprint.
"Axiom", a Russian developer of printing house management systems, will present its most demanded innovative developments at Printech, including the top popular modules for printing house automation. "Heidelberg" will introduce visitors to the "Easymatrix 106 CS" die cutter and the "Diana Eye 55" inspection machine, which guarantee the quality of high value-added packaging products, such as pharmaceutical or premium packaging. "Xerox" will showcase innovative technologies for printing with additional colours, "Xerox Iridesse Production Press" with an expanded range of available toners, and the new machines of the "Versant" family. In addition, visitors to the "Xerox" stand will see the "ROWE ecoPrint i6" monochrome engineering printer complete with a folder. The company will also present complex software solutions for production automation. "Ricoh" will display business productivity machines and print automation systems; they will also hold lectures on colour management at their stand. "Konica Minolta" will present two digital printing systems for commercial sheet-fed and label printing.
Business programme
RosUpack and Printech will feature a comprehensive business programme, which will be based on the Forum of producers and consumers of packaging and the Printing and advertising production forum. In total, the programme will host 16 events (conferences, seminars, discussions) with the participation of more than 80 speakers.
The central content event of RosUpack, the three-day Forum of producers and consumers of packaging, will start on 15 June to bring together top managers of packaging companies, suppliers of raw materials and equipment for packaging, as well as end consumers — representatives of FMCG companies and retail chains. Among the key topics of the Forum are global trends in the development of the packaging industry and reviews of the Russian packaging market; green packaging, recycling packaging waste, and developing a circular economy; consumer packaging trends. For the first time, within the business programme, international experts will present their global reviews of the packaging industry, including Pierre Pienaar, President of the World Packaging Organization (WPO); Thea Fening, analyst at the leading European research agency "Euromonitor International"; Constance Issbrücker, top manager of the European Bioplastics Association.
Partners and co-organizers of the Forum: National Confederation of Packers (NKPak), "Euromonitor International", "Segezha Group", "Sibur", "ZTI", "Deloitte", "Separate Collection Association", "Ipsos Research Company", and Higher School of Branding.
The Printing and advertising production forum, which will start on 15 June within Printech, will deal with the problems of the development of printing production in Russia and across the world. Leading international and Russian experts will discuss the vectors of development of print and advertising production, ways to find new growth points for enterprises, and business transformation to meet customer needs. The event will feature general directors of Russia's leading printing companies: "Buki Vedi", "T8", "Chetyre Tsveta", "Svetofor", "INFINITY", and others. The analytics of the industry development will be provided by international experts from "Smithers" and "AN Consulting".
Partners and co-organizers of the Forum: "Smithers", "AN Consulting", "NISSA Centrum", and "AM Labs".
On 17 June, within the framework of RosUpack, a solemn ceremony of awarding the laureates of the annual international prize in the field of production and packaging design PART Award will take place. The Prize is awarded by an expert jury based on the results of a comprehensive assessment of innovative developments in the field of packaging and packaging materials in the following nominations: "Manufacturer of the Year", "Eco-Friendly Packaging", and "Student Concept". Samples submitted by the contestants will be available at the PART Prize stand at the exhibition.
For three days, master tours will be held for visitors to RosUpack and Printech. These are excursions to the stands of manufacturers and suppliers of packaging and printing equipment in order to present and demonstrate new products at the exhibition. The master tours will consist of 6 theme routes, and the visitors will receive complete information about modern technological solutions that shape the market.
Please refer to the RosUpack and Printech websites for the details of the business programme.
Sponsors of RosUpack 2021
ZTI — business programme partner
SFT Group — partner of the exhibition
Segezha Group — partner of the exhibition
Health & Safety
The organizer of RosUpack and Printech 2021 took measures to ensure the safety and health of visitors, participants, and personnel on site, in accordance with all the recommendations of Rospotrebnadzor and UFI standards. At the entrances to the site, non-contact body temperature measurement will be carried out. Access to the exhibition will be permitted only with a mask and gloves. Dispensers with an antiseptic will be available at the site for exhibitors and visitors of the exhibition. A detailed list of security measures at RosUpack and Printech can be found on the exhibitions' websites.
The 25th Anniversary International Exhibition for the Packaging Industry RosUpack and the 6th International Exhibition of Equipment, Technologies and Supplies for Print and Advertising Production Printech will take place on 15-18 June 2021 at Crocus Expo, Pavilion 1.
Download press release>>
Get your free ticket by promo code NEWS
GET YOUR TICKET